Stuck with what to plan for Father's Day or simply looking for some inspiration? With Father's Day quickly approaching and taking place on the 19th of June this year, see below for our top picks this year for treats to book for your loved one. Don't forget to book in advance as attractions and experiences tend to book up early for these occasions.
---
Foodies Festival
Price: Currently from £18 for one day and from £38 for the weekend (Friday to Sunday)
Location: Mote Park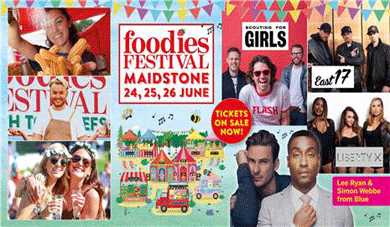 If your dad is a lover of food and live music, a wonderful gift idea would be tickets to the new event in Mote Park, Foodies Festival, running from 24th to the 26th of June. The event features MasterChef and Great British Bake-Off Stars as well as music performances by Scouting for Girls, East 17 and Lee Ryan & Simon Webb from the boy band Blue.
The festival has many features such as the opportunity to sample foods from all over world, celebrity chef competitions, masterclasses including cocktail making and wine tasting, a Cook Book Shop where you can discover new recipes and meet the authors and much more! Tickets are available for purchase now and for more information click here or on the image.
---
UK Electric Bike Hire and Tours
Price: From £35 per person
Location: Centre is located at Headcorn Aerodrome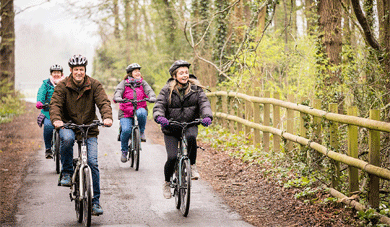 If your dad is one to enjoy an active day out and exploring the countryside, the award-winning UK Electric Bike Centre Ltd offer various tours for you to treat him to this coming Father's Day. From a self-guided hire to packages including wine tastings or food inclusions. With all hires and packages, you can either purchase them for a certain date or buy them as a gift voucher to put in your Father's Day card.
If your dad is a beer lover, their Old Dairy Brewery Tour Package is an excellent idea for a reward during your bike ride. For £60 a person you get your electric bike hire as well as a pint and a pie or scotch egg included at the Old Dairy Brewery Tap Room. They also offer The Brewery Route with prices from £45 per person where you will get an hour and a half tour of the Old Dairy Brewery, with the tour also taking you through Tenterden, with many wonderful spots for a pub lunch.
For wine lovers, UK Electric Bike Centre offer a Balfour Winery Package where you can journey on a self-guided tour to the vineyards with the package including a selection of three glasses of still or sparkling one, priced at £60 per person. They also offer The Kent Vineyards Tour where you can visit both Hush Heath Estate and Biddenden Vineyard. Please note you will only be able to visit one vineyard if booked for half a day with prices starting from £35 per person.
They have various other routes available for exploring the countryside, click here or on the image for more information.
---
Maidstone Distillery
Price: Experiences priced from £20 per person
Location: Maidstone Town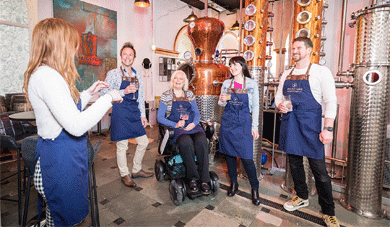 Looking for an experience for your gin loving dad? Maidstone Distillery offer various experience gift vouchers for you to purchase for your dad this Father's Day.
Their Distillery Tour is priced at £20 per person and includes a gin and tonic alongside the tour which explores their experience room and the chance to learn about the processes used to create their hand-crafted spirits as well as the distilling history which spans over 200 years. You will also receive a tutored tasting of their spirits as they talk about the inspiration behind them.
They also offer a more luxury gift idea which is their Guided Gin Making Experience in which you can design and create your very own 70cl bottle of spirit to take home. If these experiences are not exactly what you're looking for, you could simply take your dad down to the distillery as a treat and enjoy a drink together, trying one of their many craft gins. See here or click on the image for more information.
---
Kent Life Heritage Farm Park
Price: From £10 for an adult or from £36 for a family ticket
Location: Sandling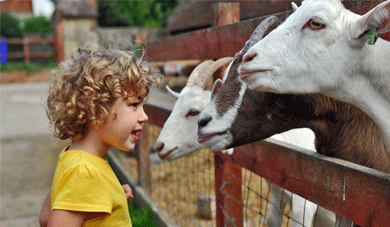 If you have a family with younger children or if your dad is a lover of farm animals, Kent Life Heritage Farm Park is always an exciting and vibrant day out. You can either treat him to the day there or give him a gift voucher which he can use to purchase any of their online bookings such as an annual membership, standard day admission or an event.
If your dad is an ale or cider lover, buying him a gift voucher or admission for him to go to the Hops 'N' Harvest Beer Festival would be a suiting Father's Day gift. This is a wonderful day out for the whole family where you can join in on hop picking, sample up to 50 varieties of locally brewed ales and ciders as well as enjoy live music performances.
See here, or click on the image, for more information on Kent Life Heritage Farm Park.
---
Leeds Castle
Price: Adult admission from £29
Location: Maidstone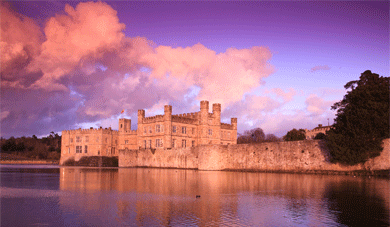 Leeds Castle is always a treat to visit, with so much to see and explore, a gift voucher or admission ticket would be a lovely gift. You could either take him on Father's Day or get him a gift voucher to use in the future and with the purchase of an admission ticket allowing free entry for a year after the admission date, this is a gift he can utilise throughout the whole year.
There are also many upcoming events at Leeds Castle that you could treat him with a ticket for such as their Open Air Cinemas, The Leeds Castle Concert and various tours including the Historical Gardens and Landscape Tour or the History Set in Stone Tour. See here, or click on the image, for more on Leeds Castle.
---
Kentish Lady Self Drive Hire Boats
Price: 2 hours from £75 or 4 hours from £150
Location: Maidstone, River Medway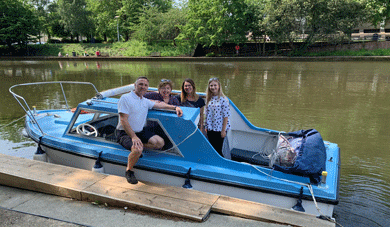 For an exciting Father's Day treat, you can hire a Self-Drive Hire Boat to sail along the River Medway with your family. They offer boats that cater to either 6 or 8 individuals with this being a wonderful gift for boat lovers, or those who love to try something different.
The travel area runs between Allington Lock and Teston Lock where you can cruise through the scenic Kent Countryside. Either bring your own refreshments on board or you can stop at Allington and grab a pub lunch or a cup of tea or coffee in a tearoom. This really is a wonderful day out for the family that differs from the usual Father's Day activities. Click here or on the image for more.
---
Go Ape at Leeds Castle
Price: Treetop Adventure Plus at £21 or Treetop Challenge at £35
Location: Leeds Castle, Maidstone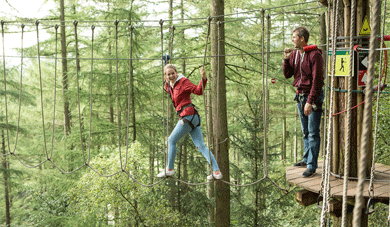 Adrenaline seeking Dads are sure to enjoy a trip out to Go Ape to soar through the treetops with zip wires and high ropes 12 metres above the forest floor. This is a thrilling and unique experience that an adventurous Father is bound to enjoy. You can either book for the day or purchase a gift voucher for him to redeem when ready.
For the more adventurous the Treetop Adventure is perfect but for those who may still be a bit wary, the Treetop Adventure Plus is a great starter for exploring the ropes. With beautiful views of the Leeds Castle grounds, this is an unforgettable experience to really make your Father's Day gift special. Click here for more information.
---
Mote Park Watersports Centre
Price: Ranging from £10 for paddle sports general hire to £100+ for more advanced lessons
Location: Mote Park, Maidstone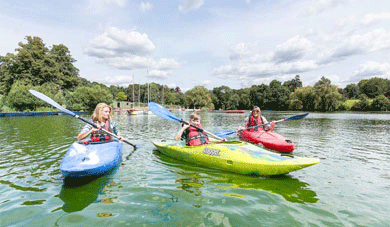 Another wonderful idea for an active experience would be one of Mote Park Watersports Centre's various activities. These range from general hire of row boats or pedalos for a more tamed, leisurely trip on the lake to stand up paddle boarding and sailing lessons.
Gift vouchers are available for values from £5 to £189 for whatever you are looking for and the variety of experiences they can choose from makes this wonderful for a father who may be looking to gain a new skill or even just for a nice day out in a rowboat or a pedalo. Click here for more information.
---
Father's Day Carvery
Price: £30 per adult and £15 per child (under 3's eat free)
Location: Mercure Maidstone Great Danes Hotel
Mercure Maidstone are hosting a three-course carvery with a complimentary beer for you to treat your father to. Take the family down or just the two of you and indulge in a lovely afternoon of great food and company.
If you would like to book, contact the Mercure Maidstone on 01622 528565 or email info@mercuremaidstone.co.uk
Related
14 Comments