Looking for the perfect destination for a long or short break? Want a place that has lots of great things to do, a wealth of amazing attractions, and stunning countryside to explore? Look no further than Maidstone.
With fantastic shopping and parking at Fremlin Walk and Maidstone Market, fabulous food and drink crafted from local produce, a calendar of great events, and unique experiences to be had for all ages, few places in the South East provide quite as much to see and do as Maidstone.
Outdoor activities
If you love the great outdoors, you will find a selection of activities to keep you entertained, with the amazing Kentish Lady River Cruises and a host of cycling and walking routes providing the opportunity to discover the traditions and charm of the region. What's more, with family attractions such as Kent Life Heritage Farm, Headcorn Aerodrome, and Teapot Island, heading out-and-about in Maidstone represents an unforgettable experience packed with fascination and intrigue.
Culture and tradition
For those in search of a more relaxing break, meanwhile, Maidstone is steeped in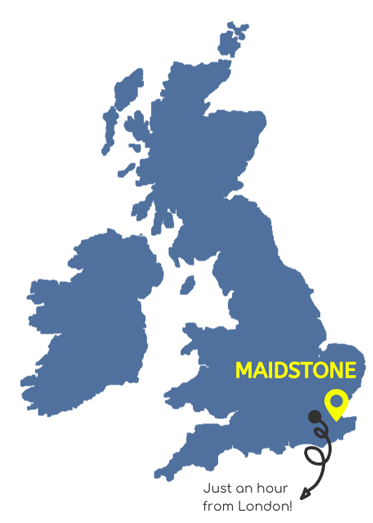 history and culture. From museums and galleries to magnificent monuments including Leeds Castle, beautiful parks and gardens such as Mote Park, the River Medway, and the North Downs to quaint historic villages nestled in the picture-perfect countryside, there is traditional Kentish life at every turn.
An abundance of places to eat and drink even ensures that savouring a taste of life in the region is simple. From traditional afternoon tea to a host of great restaurants with fine dining experiences and authentic cuisine, you will find something to suit all tastes.
All visitors welcome
No matter whether you are visiting alone, as a couple, with family, or for business purposes, Maidstone offers a warm welcome to everyone. What's more, our award-winning Visitor Information Centre provides you with all of the information you need to make the most of your time in Maidstone.
There are always many amazing events on throughout the year which you can find out about on our What's On page or in our printed guide, while the town itself is renowned for its variety of pubs & bars, trendy nightclubs, and all-round nightlife. You can even visit our inspire me pages to plan the perfect break.
Plus, finding the ideal accommodation for a stay in Maidstone couldn't be easier thanks our special search tool. There is a great choice from modern hotels to cosy bed and breakfasts, as well as camping and self-catering options, so you are guaranteed to find the perfect place to stay.