Hops n Harvest Festival at Kent Life Heritage Farm Park, and a river trip aboard the Kentish Lady
My name is Ruby and I am 13 years old. My favourite attraction in Maidstone is Kent life. Me and my family (Mum, Dad and little brother Oliver who is 8) we went to Kent life last year and it just happened to be the hops 'n harvest festival that day. When we arrived, we went straight into the petting corner just by the entrance. In there we found a lot of chickens and some really big rabbits that we even got to hold and stroke.
After, we went to feed the goats with the animal feed mum had got for us when entered the farm. The goats loved the food, they could not get enough. In the same area there are pigs, some were really big but my favourite was a little black pig that was so cute, although they did smell a bit. After washing our hands we took a look around an old house, and it was all set out like it would be been when my nan was a child. It was really cool to see all the old style furniture and clothes all set out like it would have been back then. We all found it funny when my little brother was a bit scared to walk down the stairs because they were a bit steep and narrow, but he was fine.
My little brother Oliver's favourite part of the farm is the tractor trail it goes all around the farm every 20 minutes. You get to see all the old buildings and apple trees and some other animals too. When it was finished, we made our way to the owls. There is so many different types, all different colours and sizes. There was a lady there answering any questions the little kids asked about the owls. I just really enjoyed watching them.
From there we walked up the hill and looked around some really old buildings, dad said one of them was used for a job in the past called a blacksmith. It is all set out like it would have been back then, they would have made the metal horse shoes there and other things for around the farm probably. There is also a really small very pretty little church, and mum said they still hold weddings in the farm. I am not sure if they actually use the church though. As it was the day of the festival the hall there was set up for a silent disco. We had loads of fun dancing with our headphones on, I had never been to a silent disco before. After feeding the horses, goats and donkey by the church we went back down to the play park. There was a stage where different singers and bands performed, I think it was country music. We found a picnic bench and listened to the music. Mum got us all ice-cream and Oliver played on the park.
I really enjoy Kent life. I love the animals and I feel like they are well looked after there. My favourite part is the petting corner. I have never seen rabbits so big and fluffy. My brother says his favourite part of the farm is the tractor ride even though it does bump you up and down.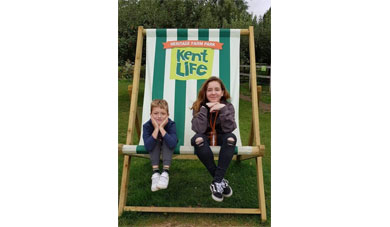 - Written by Ruby (age 13)
Kentish Lady and the Allington Lock
Finding a good day out to suit children of different ages isn't easy, but both of them loved Kent Life. Later that same day we walked from Kent Life towards the river and stopped for a late pub lunch on the riverside at the Malta Inn. We found a great table overlooking the river, and it was lovely to see all the coming and goings on the river. During lunch we saw the Kentish Lady River Boat depart towards the town centre, so decided then that we would take a round trip on it as soon as it returned an hour later.
The boat was very busy but we sat in a row of seats on the side towards the river. It was lovely to see Maidstone from a river view and listen to the commentary pointing out places of interest. It was a very sunny day and the windows on the boat were open so the breeze could filter through. You could hear the water lapping at side as we ploughed through the water. We just about managed to catch a glimpse of Allington Castle on route. Oliver loved seeing all the different boats and I was very surprised how many there were along the river and moored up at Allington Marina. As we approached the town centre we saw boats stopping alongside a beautiful old Barge which is a café. They were being served out the window on the waterside which looked a bit of a challenge as they bobbed up and down.
We stayed on board when the boat arrived at its town centre mooring, right beside the ancient Archbishops' Palace. On board there is bar counter serving tea and coffee as well as drinks and snacks, and we could see a kiosk with ice-cream on shore. We didn't need anything as it wasn't long since we had lunch but plenty of people were enjoying a drink during the trip.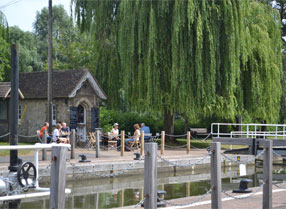 Once we arrived back at Allington, we walked over the bridge across the lock. We were delighted to find a tiny Little Old Tollhouse that is now an outdoor café. Children are always hungry and thirsty, and we were all ready for refreshment, so we sat at a the table under the shade of the trees. We all had massive pieces of cake, Victoria sponge and a chocolate orange cake with our tea and juices. There were giant board games provided by the cafe that kept the children amused while we sat and enjoyed the view.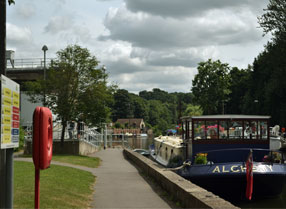 This was truly lovely day out without travelling far. Once parked at Kent Life, it was perfect that we could do so much without driving somewhere else. We all agree that we want to go back again.
- Written by Gemma, Events Officer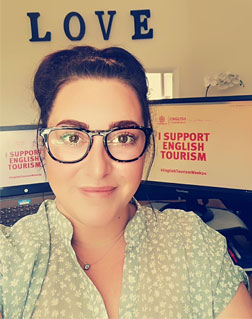 Related
0 Comments