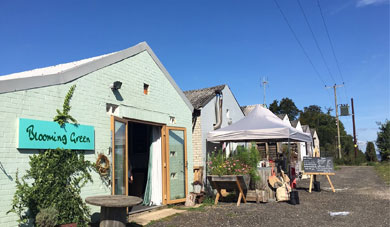 Three of some of my favourite things in life include sunshine, animals and good food, which is probably why this day in particular stands out as one of my favourite days in Maidstone last year. It was a very pleasant Friday in July, with the type of crystal blue skies and warm sultry breeze which makes you feel as though you could be disembarking a plane off the coast of sun-shiny Spain. My mum, who has become a keen gardener over the last few years, had recently heard about a place called 'Blooming Green' and had been excited to go ever since.
Blooming Green is a local florist and flower grower, with their original flower plot situated in the beautiful surroundings of Loddington, Maidstone. Throughout the year they run workshops in flower arranging, growing and wreath making, including bespoke wedding flower picking and arranging workshops. In the summer months of June to October, Blooming Green's 'pop-up' shop is open to the public one day a week for pick-your-own flowers.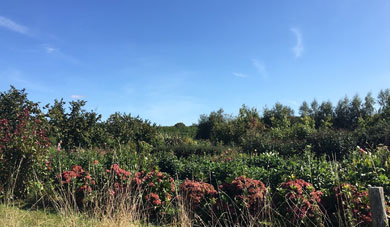 There was no need to book, we simply turned up a short while after they opened at 10am. We had no experience in flower arrangement and was unsure whether our lack of horticultural knowledge would let us down. Fortunately, no previous flower picking experience was required and the friendly lady at the entrance told us all the basics we needed to know. We were given a metal container (standard size is £15), and a pair of clippers and were left to run off like excited children into the seemingly endless sea of flowers. We wandered through fields of carefully tended wildflowers, daisies, peonies, loosestrife, yarrow, devil's scabious, cornflowers, petunia, redbecka and so many more. Rows and rows of green mixed with splashes of bright summer colours, pinks, purples, reds and yellows. It was breath-taking (and the perfect backdrop for an Instagram pic!) We picked as many flowers as we could squeeze into our bucket, requiring no rhyme or reason, just the flowers and colours that we liked the most. Once we were content with our unique bouquet we headed back to the shop where our pickings were carefully wrapped up ready to be taken home and displayed.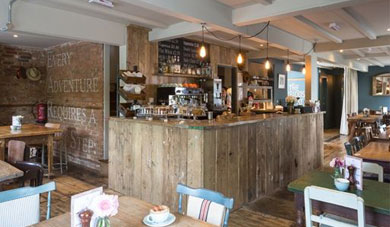 By the time we had finished flower picking, we were starting to feel hungry and needed some shelter from the hot midday sun. Only 3 minutes down the road in Boughton Monchelsea is the Curious Eatery. A hidden gem, this restaurant run by two passionate sisters who first trained in Cape Town, offers fresh, homemade classic dishes with a quirky twist. Their daily menu is small, to allow them to deliver made to order food using the freshest of ingredients. Inside the shabby chic interior, we marvel at the cosiness of the atmosphere and the friendliness of the staff. On a Sunday, their roast dinners are unbeatable, with succulent slow cooked meat, golden crispy potatoes and a huge fluffy homemade Yorkshire. Today we settled for a latte and a homemade sausage roll with flaky pastry, with a side of carrot, sweet potato and fennel soup, which was the perfect balance between sweet and spiced.
Feeling refreshed from our wonderful lunch, we decided to head home to put our freshly picked flowers into a vase. We couldn't however pass up the opportunity to visit the goats quickly before leaving.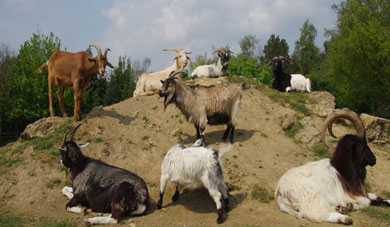 Another 4 minutes down the road is Buttercups Sanctuary for Goats, a haven for over 100 abandoned, mistreated or neglected goats. This is one of my favourite places to come, especially on a wonderfully sunny day like today. The sanctuary is free to visit which makes it ideal for the whole family to enjoy, but we always make sure to leave a small donation at the gate. Upon entering the field, masses of goats graze lazily on the grass, or are busy having cuddles from other visitors. There's goats of every size, shape and colour and each one has a unique story and character. Normally we might spend an hour or so sitting on a bench in the sunshine watching the goat's funny antics and waiting for them to meander over and say hello, perhaps stopping for a coffee in the café or purchasing a bag of animal feed the goats. Today, wary that our flowers might need water soon, we spent a short time wandering through the grass, stopping to tickle the head of each inquisitive goat that wanted to be our friend before reluctantly heading back to the car feeling full of the happiness of a day well spent.
- Written by Olivia, Tourism and Events Apprentice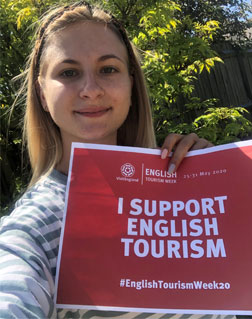 Related
0 Comments