I would do this whole day out all over again as it was brilliant fun and we laughed all day will continue to laugh about it every time we meet up. I undertook this trip with my siblings and my cousins. We all fancied going on the Electric Bike Tours with UK Electric Bike Hire on a self-guided trip. (This is really leisure cycling for softies and not for the Lycra clad hill climbers).

We met up at 10am at the site a Bloomsbury where we were met by the smiling Lawrence. Not everyone had ridden and electric bike before so everyone got kitted up with helmets and bikes were adjusted to suit each individual and we all had a little try out in the yard. Everyone got a bit used to the throttle and power assistance. You very quickly get used to it. There was a huge range of bikes there from the nifty little black ones to a rather fancy pale blue, sit-up-and-beg ladies shopper.
The batteries make cycling a lot easier on the hills and it just makes the whole day more enjoyable, so there is no huffing and puffing up the hills. The sunny day turned out to be quite hot but whizzing along the lanes cools your skin on both the downhills and the uphills. It was the perfect day for shorts and T-shirts.
We had all decided that the main aim was a ride through the Kent countryside, with a map and a nice pub lunch.
Once everyone was comfortable we set off toward Biddenden Vineyards. This is a brilliant first stop as its about 20 minutes away and there is a nice café and lots of tables and chairs outside and beautiful flowering baskets and tubs. Everyone wanted a drinks but instead of coffee we decided to have local apple juice. I recommended "Red Love" apple juice as I love it and it turned out that six out of six loved it. We stocked up the panniers on the bikes, with the plan to stop here for tea and cake on the way home.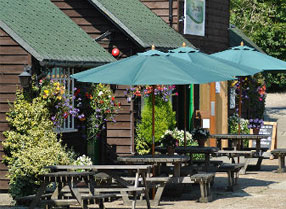 We set off again along the glorious quiet country lanes with dappled shade in search of Woodchurch Vineyard. We missed a turning and went a bit wrong but hey the countryside was beautiful anyway. We retraced our steps and turned into Woodchurch Vineyards where we settled down and had a short wine tasting and a glass of wine. In went a bottle of wine into the panniers.
We then headed south towards the village of Appledore and took the turn towards Stone-in-Oxney as we were heading to a pub called The Ferry Inn for lunch. It was hot by lunch time and we settled at a large table in the garden next to the river. ordered a local beer and read the menu. We all decided what we were going to eat and drink and then someone ordered fish and chips and then everyone wanted fish and chips, so that's what we all had and it was very good.
It was good to talk and enjoy the day together and then it was time to return.
Our bicycles were all chained to the fence in the car park so we undid them and all and set off. Instead of returning over the hill at Woodchurch Vineyard, we made a conscious choice to return by Moor Lane. This was a delightful piece of countryside and we thoroughly enjoyed the cycling along this very quiet route. With the exception of crossing a couple of busy roads the whole of this route is along quiet country lanes filled with wildflowers in the verges and honeysuckle and wild roses in the hedgerows.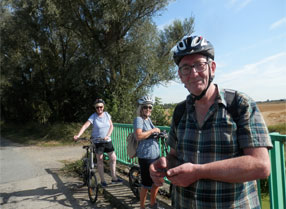 It was at this point that my cousin got a puncture. So we phoned for assistance and all collapsed on to a grass verge to await help. Lawrence had an eventful journey getting to us but was very kind and got us all going again very quickly with a new bike and taking the original bike home.
Sadly we arrived too late at Biddenden Vineyard for tea and cake but that is how it is sometimes in life but what it does mean is that we can do this whole trip again. We finished the day tired but happy and with great memories which we will laugh about for years.
Other Adventures by Electric Bike I would Recommend
Previously I have done the Castles tours which is great and lots of lovely country lanes filled with cow parsley and wild flowers and little bit of off road along a bridle path to get to Sissinghurst Castle and a glorious pub lunch in Smarden at the Flying Horse. (Divine Sausages and Mash with onion gravy). We also had coffee at Holding Point café at Headcorn Aerodrome, which not only proved extremely good value but we also got to see a Spitfire coming in to land and went around Lashenden Air Warfare Museum. So lots to see on that route too.
Next time I might go to the beautiful Hush Heath Winery and have a cheese platter for lunch and make my way back to Biddenden Vineyard for shopping and afternoon tea.
*An excellent thing to note is that the bikes have good panniers to put your en-route purchases in and that UK Electric Bike Hire will also arrange to meet you at a station if you arrive by train rather than by car.
- Written by Christine, Visitor Economy Officer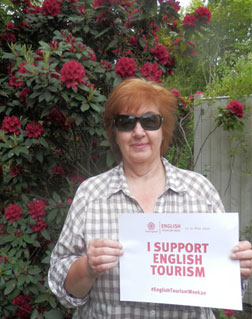 Related
0 Comments