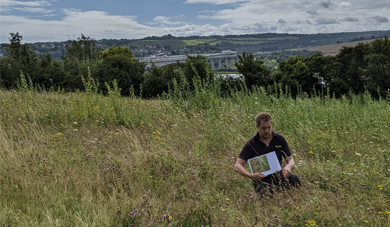 Cheers! To a superb and unique small batch gin from Kent. This quality gin will be flavoured by herbs picked by us. Even better, whilst you enjoy this gin you can feel reassured that you are also doing your bit for the planets eco-system through Plantlife.
The Maidstone Distillery have been working with Plantlife now for a couple of years and invited a small number of their customers to join them on the annual collection of wild herbs required. These were collected from Merrals Shaw meadow and Longhoes Meadow at Ranscombe Farm Nature Reserve.
Only herbs which grow in abundance can be collected - so you have no need to worry about the exploitation of wild plants. However, growing amongst them are some of the rarest plants you will find anywhere. Plantlife botanical representatives came with us to help and ensure we collected the right herbs without affecting the eco-system in any way.
First of all, we collected Red Clover flowers and Marjoram both growing in abundance. Only good open flowers were collected from the red clover and only the leaves from the Marjoram. Marjoram is a plant very closely related to Oregano, which most people are familiar with in Greek cuisine. The flavours are very similar, but stronger in Oregano. On right you will see Marjoram and wild Basil growing together.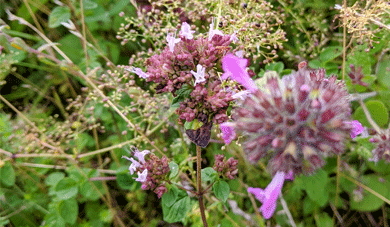 Then after about 15-20 minutes we stopped collecting and moved to Longhoes. Here we collected wild mint leaves and poppy seeds. Longhoes generally has a spectacular early summer show of poppies but it is the seeds we needed. Collecting poppy seeds was not an easy task. Amongst the poppies were lots of spiky thorny bits of thistle and all manner of wild plants (long trousers are needed) and we were looking for the specific opium family poppies which had a slightly larger seed head than the red ones. Collecting the Wild Mint fills your senses with that fresh minty smell, but your fingers also smelled fantastic at the end of collecting.
Ranscombe is a working farm as well as well as a Nature Reserve and Andrew Lingham manages this place with Plantlife. Andrew told us a little about how he did this and the staggering results they achieved. As a general rule the soil remains undisturbed by ploughing at Ranscome, as that helps the soil retain carbon and makes a safe haven for wildlife. Understanding of ecologically good farming practice and our planets future is something we all have a vested interest in. We learned how much of our carbon excesses could be changed and returned to the soils within a few years by the changing the way our land is farmed.
With 1 in 5 British flowers at risk of disappearing and 97% of wildflower meadows lost and children losing their connection with nature, this corner of Kent is well worth exploration. With a donation £1 for every 70cl bottle of Ranscombe Wild gin sold, you know you are doing a little bit to help.
Here you can find out more about Plantlife
Here you can find out more The Maidstone Distillery
And we all finished off with a Ranscome Wild Gin and Tonic. The herbs bring out an award winning and totally delicious citrus flavour. Both The Maidstone Distillery and the Ranscome Wild Nature Reserve are well worth a visit.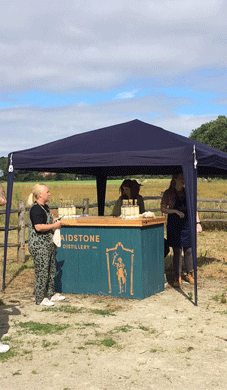 Related
3 Comments