The festivities are over and we're now in that seemingly never-ending void between Christmas and New Year. So what better way to cure the boredom than cooking up a hearty meal using those leftovers from Christmas dinner? Here are three cheap and easy recipes you can make whilst using up whatever you can find in the cupboards! And, if like us, all your turkey has been eaten, you can substitute all these recipes with chicken.
Our top safety tips:
1. Any leftover turkey should be put in the fridge after it has completely cooled (within 2 hours of cooking).
2. Leftover turkey that has been properly stored in the fridge can be consumed for up to 4 days after cooking.
3. For any longer than this, the meat should be put in an air tight container and kept in the freezer where it can be kept for several months.
4. Once defrosted, make sure to eat any leftover meat within 24hrs and if re-heating make sure food is piping hot before consuming
Turkey Soup
This soup is a real winner for using up lots of those post-Christmas leftovers and contains staple ingredients you most probably have in your cupboards. Even better, this recipe can be adapted to your particular tastes and what you have needing to be used up. A nutritious and fulfilling meal that will keep in the fridge for a couple of days and in the freezer for a month.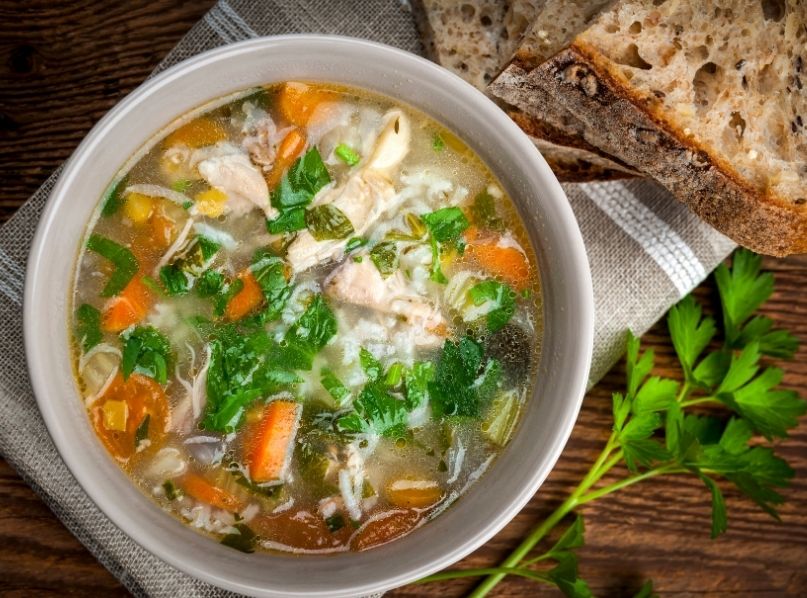 Ingredients:
1tbsp Olive Oil
1 Large Onion
1 Red Pepper
½ tsp Chilli Flakes (or too your liking)
1 ½ Litre Chicken Stock
250g Turkey Meat
1 Can Chickpeas
3tbsp Basmati or Long-grain Rice
A few rashers of bacon (optional)
Chopped Sprouts (optional)
1. Heat the oil in a large pan and add the onion and bacon, frying until the bacon is cooked and the onions soft (about 5 mins), stirring every so often.
2. To make the soup, add the red pepper, chilli and rice and stir together for around a minute. Pour in the hot stock, stir in the turkey and chickpeas and season well. Bring to the boil, cover and simmer for 8-10 minutes, until the vegetables and rice are tender. Serve with parsley or coriander.
Source: BBC Good Food
Turkey and Sweet Leek Pie
A big hearty pie that will satisfy the whole family and perfect for those cold and gloomy days between Christmas and New Year. The trick is to use ready-rolled puff pastry for that impressive crispy topping without much effort. Another recipe that can be adapted to use up whatever bits and bobs you have left.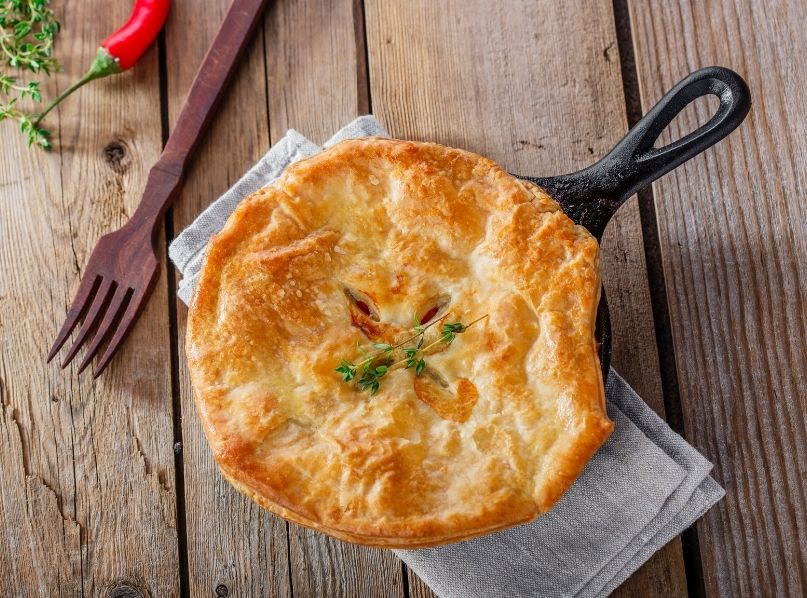 Ingredients:
2 rashers of streaky bacon
½ bunch fresh thyme
Olive oil
2kg leeks (white end chopped into chunks, green end finely sliced).
Sea salt
Black Pepper
800g turkey meat torn
2 tablespoons plain flour
2 pints of chicken (or vegetable) stock
2 tbsp. crème fraiche
800g read-rolled puff pastry
12 chestnuts (canned or vaccum packed)
1 egg, beaten
1. Preheat your oven to 190°C/375°F/gas 5. Put your bacon in a large pan on a medium heat and add your thyme leaves. Add a bit of olive oil and fry for a few minutes. Add the leeks and fry them off for about 3 minutes. Add a pinch of salt and pepper then pop the lid on top, turn the heat down and let them cook away gently for 30 minutes, stirring every 5 to 10 minutes.
2. When your leeks are ready, add the turkey meat to them and stir. If you've got a bit of stuffing mixed in there you can put that in too. Add the flour, mix it in well then pour in your stock and stir again. Add the crème fraîche then turn the heat up and bring everything back to boil. Have a taste and add a bit more salt and pepper if it needs it then turn the heat off. Pour the mixture through a sieve over another large empty pan and let the gravy from the mixture drip into the pan.
3. Get a deep baking dish roughly 22 x 30cm. Crumble the chestnuts over one half of the pastry then tear a few of the sage leaves over the chestnuts. Fold the other half of pastry on top then roll it out carefully and evenly so you have a rectangle big enough to cover your baking tray. Don't worry if a few bits stick out here and there.
4. Spoon the mixture from your sieve into the pie dish and spread it out evenly. Lay your pastry on top, tuck the ends under then gently score the pastry diagonally with your knife. Add a pinch of salt to your beaten egg then paint this egg wash over the top of your pastry. Pop your pie in the oven for about 35 to 40 minutes or until the pastry is puffed up and golden brown. When the pie is ready, re-heat the gravy and serve with your pie, along with some seasonal veg.
Source: Jamie Oliver
Creamy Leftover Turkey Pasta
Pasta is always a winner, and this recipe is super quick and easy to make. Simple ingredients yet a tasty and satisfying post-Christmas meal. If you've got a few sprouts left over add those in too, and for an extra festive treat swap the mushrooms for a few chestnuts!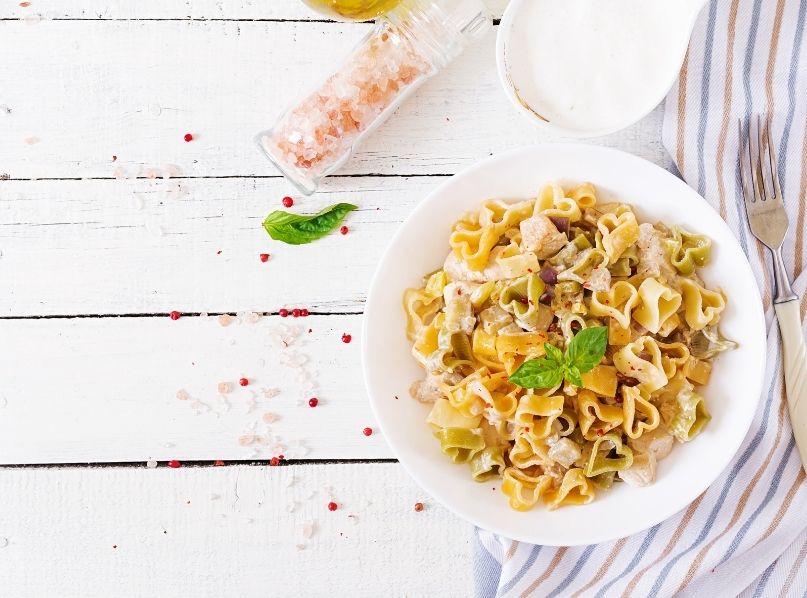 Ingredients:
300g dried pasta
2 tbsp. olive oil
1 onion
150g mushrooms
3 cloves garlic
300g turkey
300ml double cream
Salt and pepper
4 tbsp. parsley (or basil)
Parmesan cheese
1. Cook the pasta in boiling salted water according to packet instructions
2. Meanwhile, put the olive oil and onions in a pan and cover with a lid. Cook over a low heat, stirring occasionally, for about 3 minutes, or until the onions have softened slightly.
3. Turn up the heat and add the mushrooms frying for 3 minutes, until the mushrooms and onions have browned nicely.
4. Lower the heat and add the garlic and the turkey and cook for a further 2 minutes. Add the cream, salt and pepper, and cook for a further 5 minutes until the turkey is piping hot all the way through and the sauce has reduced slightly.
5. Meanwhile drain the pasta, keeping back a couple of tablespoons of the cooking water.
6. Tip the pasta and cooking water into the sauce and stir to combine. Sprinkle over half the herbs and stir again.
7. Serve with extra herbs and plenty of parmesan cheese!
Source: EasyPeasyFoodie
Related
2 Comments