I was delighted when a couple of old school friends from my hometown in Scotland visited for a weekend last year. I call it a girlie weekend but as my daughter never fails to remind me, I am not a girl anymore! Nevertheless these age 50+ 'girls' know how to enjoy themselves, and it usually involves some sightseeing, maybe some pampering, lots of chat, definitely shopping and of course indulging in culinary delights and tippling the local produce.
It had been a while since they had been here so I had a few ideas on what we could do and where we could go that all were happy with.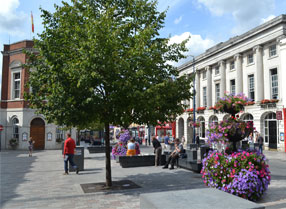 However, as is apt to happen, all plans changed when one of my forgetful friends realised that she had forgotten all her makeup. So, after borrowing a few things, we headed by train into Maidstone town centre. After a quick trip into Fremlin Walk to find Boots and House of Fraser, order was restored.
As it was an exceptionally warm late spring day, I took them on an impromptu walking tour of the town.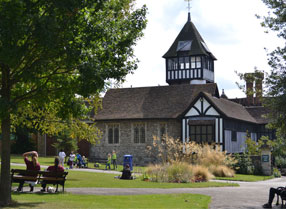 We stopped by the Visitor Information located inside the museum to pick up the Historic Walking Tour leaflet. This was the first time my friends had visited the museum, so we seized the opportunity and did a whistlestop tour. The Ancient Lives Gallery was a hit and they were really surprised at the size of the museum and variety of the collections. I eventually manage to prise them out of the gift shop, reminding them that giant cuddly dinosaurs would not fit in their cabin bags home!
So off we set on the walking tour, but I swear that this was harder than herding sheep. Like toddlers they would spot something interesting and just veer off. Tha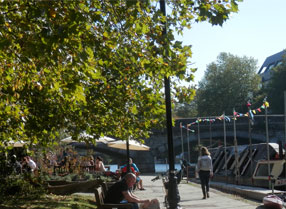 nkfully they insisted we stop for a coffee break when they spotted the lovely Old Boat Café moored up by the river. We sat outside on the river path rather than on the boat, enjoying the morning sunshine. I couldn't stop laughing as both my friends tried to remind me of words I'd grown up with from the Doric dialect of North East Scotland. Like getting a 'bosie' (a hug or a cuddle) or being 'scunnered' (fed up).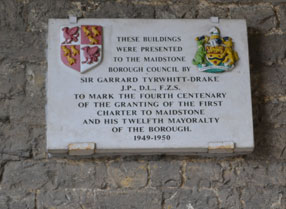 Perked up by the excellent coffee we headed along the river past the Archbishops Palace. I pointed out the dinosaur on the coat of arms placed on the gate tower by the College of All Saints and we wandered into All Saints Church and saw the musket holes in the door from the civil war. On the family memorial to a local man Lawrence Washington, great uncle of George Washington, is the family star and stripes. It looks remarkably like the flag of the USA today, so intriguing.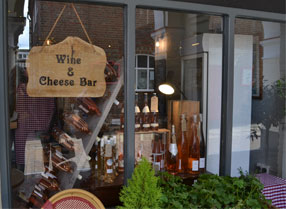 By now lunch was calling so off we trotted to Frederic's for some delicious French food. It was hard to choose but we opted for omelettes (French style or English style) and salad, Croque Monsieur with a cheeky glass of wine to wash it all down. It was then a decision between the gorgeous apricot tart or the cheese board. The cheese won and it required another suitably delicious glass of wine to go with it. The wine range and the room full of various gins is very impressive.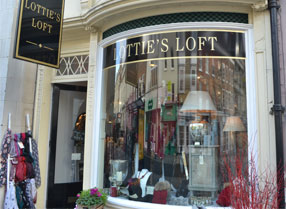 Fortified, a bit of retail therapy ensued at the lovely designer store Woods, followed by Lotties Loft, and the Golden Boot before hitting the shops in Fremlin Walk. Armed with more bags than we should have had, we took the train home. The evening continued in much the same vein and we walked to The Windmill in Hollingbourne for a fabulous evening of good food and wine, and much more laughter.
Day two started with a walk up to the North Downs Way. The views were stunning, and the route was quiet. I had more planned for the day, so after a quick change we headed off in the car towards the Marden, stopping at Frankie's for coffee and to pick a few deli goods for dinner that evening. The range of pasta and sauces was very tempting, as was the range of fresh cakes on offer. I couldn't resist buying a few slices of pistachio and lemon cake to take home.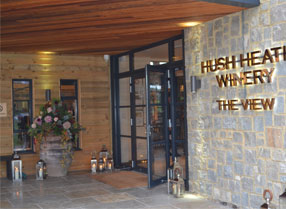 Then it was off to the Hush Heath Estate. After a gentle walk around the vineyards we enjoyed a tutored wine tasting and a shared deli platter for lunch. Absolutely heavenly! The views over the countryside from Hush Heath Winery are so quintessentially Kent and we sat for some time just relaxing and talking.
It was then time to head back, so I took some scenic lanes on the way back that wiggle through the countryside in the weald of Kent. There are so many routes and I never seem to take the same road twice.
This was such a lovely weekend, lots of giggling like teenagers, and trying to appear more sophisticated as we tasted and learned more about wine.
It was a braw weekend (Doric for good or great). To the next time girls!
- Written by Laura, Visitor Economy & Events Development Manager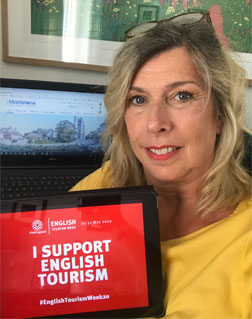 Related
0 Comments