Things to Do
Whether you are planning a long break, a day trip or a weekend getaway, you will discover a host of amazing places to visit, tourist attractions and things to do, in and near Maidstone. Check out the suggestion below to find great fun days out with the kids or simply great days out with friends.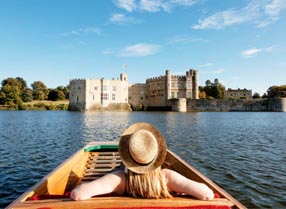 Maidstone is a fantastic location to reach every attraction in Kent. It is perfect for couples, families and groups of friends, with a host of different things to do, from exploring castles, discovering new places, enjoying fresh local food or coming along to special events.
The different seasons bring different aspects of life in Kent. Spring brings lambs, blossom and new birth. Summer brings outdoor events, strawberries and perfect days for exploring. Autumn brings the apple and wine harvests, crunchy leaves and misty mornings. Winter brings the cosiness of log fires, homely cooking, great shopping and indoor entertainment.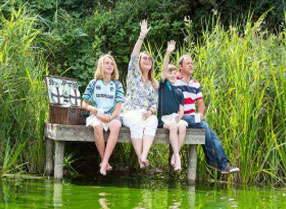 High ropes, skydiving, flying and motorsports offer some great opportunities in and around Maidstone and is particularly exciting for those with a sense of adventure. For those looking for a digital detox the areas of outstanding natural beauty offer great walking and places to discover more about this landscape. Leisure cycling is popular with quiet and traffic free routes and maps and route plans can be downloaded so that you can enjoy your day. Country pubs can be found along most our walking and cycling routes. Watersports and fishing can be found along the beautiful rivers and in Mote Park, as well as specialist fishing lakes. Golf for every level of player can be found in Kent from beginner to international standards.
For those seeking more cultural activities workshops in arts and crafts can be found in painting, pottery, floristry, glazing, stitching and much more besides.
For those who are new to this area often a tour is a great way to find out more about a place. The Kentish Lady River tours are very popular, as are some of the walking and castle tours. They provide and insight into local culture and history which might be missed without having taken part.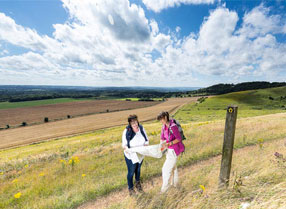 There are a host of ways to explore this part of England. Kent villages are picturesque with their clay peg tiles, oast houses and weatherboarding. It is all nestled in cosy countryside, you can head for the hills or meander along the watersides. All can be explored easily from railway stations or by car. Find delicious local food in glorious pubs and restaurants along the way.
Planning a longer trip? Maidstone is also less than 60 minutes from London should you want to have the best of both worlds: the glamour of the city and the peace, tranquility and beauty of the Kentish countryside.
Maidstone has four in town shopping centres and two out of town shopping centres. This makes for an amazing choice of stores covering all budgets. It's worth exploring!
Inspiration
A guide to visitor attractions including castles, gardens, family attractions, sports, things to do and days out with the kids.

Mote Park is an award-winning park with 450 acres of mature parkland and a 30 acre lake, providing a wide range of recreational activities. Featuring a children's play area, and a miniature railway.

1 Jan 0001

31 Dec 9999

1 Jan 0001

31 Dec 9999

1 Jan 2023

31 Dec 2023

1 Jan 2023

31 Dec 2023

Whether you love climbing, racing, running, golf, watersports or spectator sports Maidstone is going to have something to spike your interest.

Cobtree Manor Park, Maidstone has over 50 acres of parkland displaying a diverse and maturing collection of trees and shrubs

No matter what you enjoy doing in your leisure time Maidstone has a superb range of things to do from high adrenalin experiences, to family days out and things to do on a rainy day. Check out our listings and find some inspirational ideas.

Maidstone is a great place to do some shopping or a little retail therapy. There is a good selection of High Street stores but an impressive collection of independent shops, with great customer care and product knowledge. There are four in town shopping centres and out of town shopping as well.

Find the latest What's On guide
Highlights
We'll brief you for safety before you fly down our zip-wires, leap off our Tarzan Swing and tackle…
You've written your book, but how do you find your ideal readers and tell them about your book? In…
If you have an adventurous child, keen to find their nimble feet on the high ropes or…