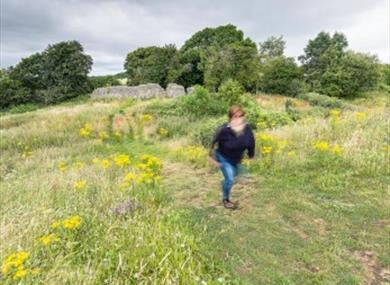 Address/Location
Castle Hill
Detling
Detling Hill
Maidstone
Kent
ME14 3JE
Contact
The North Downs is an Area of Outstanding Natural Beauty (AONB) and is a nationally important, protected landscape offering beauty, tranquillity, fascinating history, vibrant communities, local produce and many opportunities to explore and enjoy.

The North Downs stretch from Farnham in Surrey across Kent and finish on top of the White Cliffs of Dover. The long distance footpath, the North Downs Way, covers the length of this AONB. Please see the North Downs Way National Trail for more detail of the route and additional routes from stations and points of interest.

The AONB website covers a great deal of information in relation to the protection of the wildlife and flora, access points and a host of information about its history and heritage including standing stones, flint churches, rich river valleys, information about local produce, volunteering and ways to access this special landscape.
Opening Times
Opening 2018
(1 Jan 2018 - 31 Dec 2018)
Detailed
What's Nearby
Thurnham Castle, 6km north of Maidstone, stands on a spur of the chalk ridge of the North...

0.11 miles away

The White Horse Country Park is set within the Kent Downs Area of Outstanding Natural...

0.11 miles away

The path was opened in 1978 and most of it is within easy reach of London. The good...

0.12 miles away
Thurnham Castle and the site on which it stands appears to have been used for...

0.12 miles away

The Kent Event Centre has been on its current site at Detling since 1964. Originally...

0.34 miles away

Located on top of the Kent Downs Area of Outstanding Natural Beauty. Coldblow offers...

1.02 miles away

18-hole parkland golf course with view of the North Downs. Professional coaching...

1.52 miles away

4th Sunday of every month.

1.88 miles away

Attached to the Marriott Tudor Park Hotel, this 18 hole golf course is also available to...

2.26 miles away

This 90 acre park on the eastern edge of Maidstone is managed as a nature reserve for...

2.34 miles away

Mote Park is an award-winning park with 450 acres of mature parkland and a 30 acre lake,...

3.02 miles away

Located in the centre of Mote Park offering a variety of watersports including sailing,...

3.11 miles away

Located in the centre of Mote Park offering a variety of watersports including sailing,...

3.11 miles away

Maidstone Leisure Centre is a fantastic community leisure centre that has a wide range of...

3.18 miles away

A Restaurant bar and Club in the heart of Maidstone. A stunning Funky Lounge Bar set in a...

3.31 miles away

A beautifully restored 17thC barn, now a visitor centre, with displays on Kent's wildlife...

3.37 miles away
Previous
Next