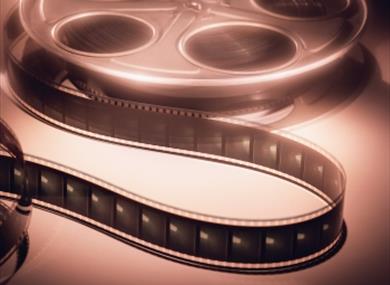 Address/Location
Hazlit Theatre
Earl Street
Maidstone
Kent
ME14 1PL
Contact
Maidstone Film Society is based at the Hazlitt Theatre in the heart of Maidstone town centre. About to enter its 69th season showing a diverse range of world cinema from classics of yesteryear to contemporary greats, a collection of twelve films run from September through to April with screenings on Monday evenings at 8pm.

The theatre has seating available for around 350 people and a licensed bar offering refreshments before and after screenings. This season's films are:
I DANIEL BLAKE (2016)
UK/FR/BE 100 mins Cert: 15
Daniel Blake is a skilled joiner in North East England who finds himself unemployed following a heart attack. For the first time in his life, he must try to negotiate the benefits system but finds himself lost in a labyrinth of over-complex legislation administered by agency staff working from a script. Ken Loach pulls no punches in his acerbic critique of the government's welfare system.
JULIETA (2016)
SP 99 mins Cert: 15
Julieta is a middle-aged woman planning to move to Portugal with her boyfriend Lorenzo, but she puts her plans on hold when she meets Beatriz, a friend of her long-lost daughter Antia. Instead, she moves into her old apartment block in Madrid in the hope of contacting Antia again. Pedro Almodovar's latest movie is a return to form embracing the female-centric themes of his earlier work.
THE EAGLE HUNTRESS (2016)
UK/Mongolia/US 87 Mins Cert: U
In the inhospitable Altai mountains of Northern Mongolia, the nomadic people have a long tradition of training eagles to hunt. One Kazakh eagle hunter (having no male heir to pass his skills on to) elects to train his 13-year-old daughter Aisholpan instead, a responsibility she takes to with great enthusiasm. Otto Bell's captivating documentary has been enthusiastically championed by critics and audiences the world over.
PIKU (2015)
India 123 mins Cert: PG
Piku is a successful architect living in Delhi, looking after her 70-year-old father, a hypochondriac who is obsessed with the state of his bowels. The two of them need to travel to Kolkata but the only person who will take them is over-friendly local cab company owner Rana. This offbeat Hindi comedy mixes broad lavatorial humour with astute observations on modern Indian families.
LOVING (2016)
UK/US 123 mins Cert: 12A
Loving celebrates the real life courage of an interracial couple, Richard and Mildred Loving, who spent the first nine years of their marriage fighting for the right to live as a family in their hometown. Persecuted by the state, their civil rights case, Loving vs. Virginia, went all the way to the Supreme Court. Their love story has become an inspiration to couples ever since.
HUNT FOR THE WILDER PEOPLE (2016)
NZ 101 mins Cert: 12A
Brought up in a succession of foster homes, city kid Ricky gets a fresh start in the New Zealand countryside with loving Aunt Bella and cantankerous Uncle Hec. When Ricky decides to run away, Hec realizes the only sensible thing to do is to follow him. Soon their disappearance sparks a nationwide manhunt. Sam Neill and Julian Dennison are wonderful as the mismatched pair in this glorious comedy about the joys of running away.
HIDDEN FIGURES (2016)
US 127 mins Cert: PG
Hidden Figures tells the incredible but true story of a group of African-American women who were key to NASA's early work in the space race. In the days when electronic computers were generally unreliable, these mathematical geniuses performed the necessary calculations to ensure that John Glenn could be carried into space on his pioneering flight and more importantly, come back safely.
NERUDA (2016)
Chile/Arg/FR/SP/US 107 mins Cert: 15
Set in Santiago in 1948, Neruda concocts a fictional tale around an incident in the life of Nobel Prize-winning poet Pablo Neruda. After President González Fidela outlaws communism, Neruda goes on the run, but Fidela does not want the bad publicity attendant on imprisoning an international celebrity and so uses the expedient of assigning an incompetent young policeman to the case.
MOONLIGHT (2016)
US 111 mins Cert: 15
Moonlight took the Best Picture Oscar despite a small but highly publicised mix-up with a certain other film. It tells the story of Chiron, whom we meet initially as a 9-year old black kid growing up in a rough neighbourhood of Miami during the 'War on Drugs' era. This coming-of-age drama returns to him in his teenage years, and later, dealing with a broken home, the violence around him and ultimately his own sexuality.
THE SALESMAN (2016)
Iran/FR 124 mins Cert: 12
The future looks promising for amateur actors Emad and Rana as they prepare for opening night on their production of Arthur Miller's 'Death of a Salesman'. However when dangerous work on a neighbouring building forces the couple to leave their home and move into a new apartment, a case of mistaken identity sees a shocking and violent incident throw their lives into turmoil.
THE CARER (2016)
UK 89 mins Cert: 15
Theatrical legend Sir Michael Gifford is terminally ill with Parkinson's disease. Hungarian actress Dorottya arrives as just another in a long line of badly treated carers though she secretly hopes to become his acting pupil. Sir Michael bullies and exploits her until an impromptu exchange of lines from Shakespeare causes them to bond. Shot largely in Kent, this warm and engaging movie features a fine performance from Brian Cox as the aging thespian.
NOCTURNAL ANIMALS (2016)
US 116 mins Cert: 15
Nocturnal Animals is fashion designer Tom Ford's second film (following A Single Man); a romantic thriller of perhaps shocking intimacy which looks at the thin lines between love and cruelty, revenge and redemption. The film stars Jake Ghyllenhall and Amy Adams as a divorced couple forced to face uncomfortable truths about themselves.
LA FAMILLE BELIER (2014) (Preceded by the AGM)
FR/BE 106 mins Cert: 12
The Béliers are an ordinary family who run a farm. Ordinary, that is except that mother, father and son Quentin are all deaf and rely on their daughter Paula as their gateway to the hearing world. When a music scout discovers Paula's talent for singing, the rest of the family worry about how they might cope without her. This low-key but heartwarming movie was a box-office success in France.
Ticket Information
| Ticket Type | Ticket Tariff |
| --- | --- |
| Couples membership | £45.00 per ticket |
| Senior / Student | £22.00 per ticket |
| Single adult membership | £27.00 per ticket |
Note: Prices are a guide only and may change on a daily basis.
Opening Times
Nocturnal Animals
(9 Apr 2018)
La Famille Belier
(23 Apr 2018)
Enhanced
What's Nearby
Situated right in the heart of Maidstone this cottage is a Listed Grade ll timber framed...

0.14 miles away

KH Homes Ltd provides short-term self-catering, serviced accommodation in Kent, for...

0.38 miles away

0.65 miles away
Previous
Next