The last few months have been incredibly hard for tourism businesses and attractions and we are just as delighted as they are to welcome you back. In partnership with Visit England, we have put together a list of attractions in Maidstone which are re-opening with all the latest information so you're in the know before you go.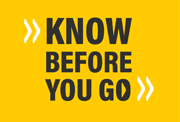 While as much as possible information has been provided on this page, if you're planning to visit one of our attractions please make sure you visit their website to find out what facilities are open and whether you need to pre-book.
Please remember to keep 2 metres distance from anyone outside your household, wear a face covering when travelling on public transport, pay by card where possible, wash your hands frequently and put your rubbish in the nearest bin, or take it home with you if a bin isn't available.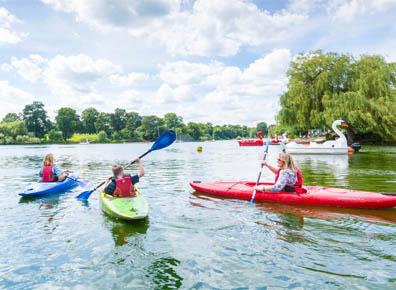 Mote Park Watersport Centre will be re-opening from the 4th July for boat hire (peddle boats and row boats). There is no need to book these, they go on a first come, first serve basis. Kayaks, open canoes and paddle boards are also available but pre-booking for these is required.
Enjoy the abundance of wildlife, fauna and flora on Mote Park's 30 acre lake, and with your own boat it's the perfect way to enjoy the sunshine and open space away from others.
The Watersport Centre will be open 7 days a week from 10am to 6pm (weather depending). Seasonal later opening times are available but these will need to be pre-booked.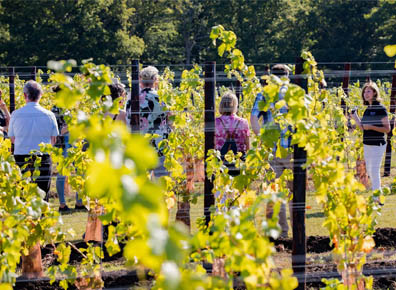 How amazing does sipping wine surrounded by grape vines in the sunshine sound? From the 4th of July, Hush Heath Estate will be commencing their ever popular tours. This includes self-guided tours (which are FREE with option of a taster session of 3 wines for just £5 pp!), as well as bookable guided tours of the vineyards, winery and guided wine-tasting session.
If you prefer the slower pace of life, feel free to pick up a map from the cellar door and explore the 400acre estate at your own leisure, soaking in the beautiful vineyards, apple orchards, wild flower meadows and ancient oak woodlands.
Or why not book yourself a delicious sharing platter for two, filled with local cheeses, meats and vegetable dishes for your selection of a perfect plate (starting at £35 for two). The shop remains open if you fall in love with a wine and can't leave without taking a bottle home for the cellar.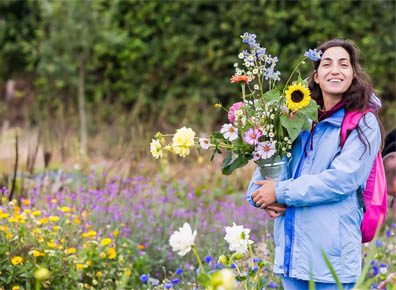 Every summer, Blooming Green offer out their fields of gorgeous, tenderly grown flowers for visitors to pick for their own bouquet of favourites. Thankfully, this year Blooming Green have found a way for people to still enjoy this summer delight. Flower picking makes for a wonderfully relaxing activity and a lovely thing to do either on your own or with family or friends (groups up to 6 only).
There are some changes to the season this year to bear in mind. Pre-booking is essential, firstly by purchasing a minimum of two vouchers online and then emailing to arrange a time and date to arrive. PYO is available on Saturdays between 10am – 4pm, with your booking slot being an hour long. Personal flower clippers and bucket is preferred, however they will be offered if you do not have any.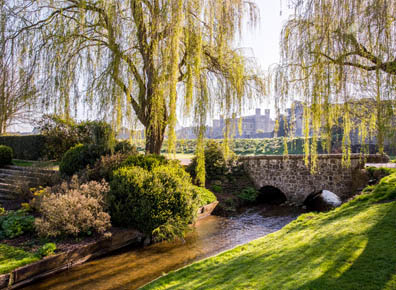 The Leeds Castle grounds and Alexandra Gardens are now open to new and existing ticket holders! Enjoy the whole 500acres of beautiful Kentish parkland, once home to six English medieval queens, Henry VIII and many influential and famous people. With so much space, it's easy to distance from others, so why not bring a picnic and enjoy the peaceful outdoors surrounded by nature. The Whistle Stop café and kiosks are also open for refreshments.
Due to social distancing guidelines the following attractions at Leeds Castle are still closed; The Castle, Playgrounds, Maze, Bird of Prey Centre, Falconry Arena, Punting, Shops, Culpeper Garden, Lady Baillie Garden, Dog Collar Museum, Gatehouse Exhibition, Adventure Golf, Black Swan Ferry, Castle Train and Castle View Restaurant.
Tickets purchased for Leeds Castle will now be valid for 15 months after date of purchase. Pre-booking for new and existing ticket holders is required.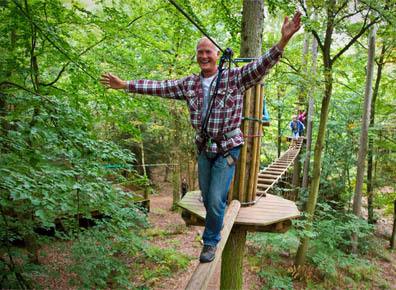 Go-Ape Forest Adventure at Leeds Castle will be reopening from 10th July for those brave enough to ascend to the tree tops. Go Ape makes for an adventurous day out for those who want to take on a challenge. Leeds Castle Go Ape has two, 250m long Zip Wires with great views of the North Downs as well as panoramic views of the beautiful area surrounding Leeds Castle. Tackling the array of obstacles, some 13 metres above the forest floor, will leave the hairs standing on end. For little adventurers is the mini high rope course, 6 metres above the ground including a mini zip line!
There will be some changes to your experience in order to maintain safety of participants. Pre- online booking is essential and there is an online check-in on arrival to reduce contact. Go-Ape will also be running at a reduced capacity to ensure that everyone has plenty of space and to reduce queuing. Harnessing will be instructor led but customers will be fitting their own harnesses.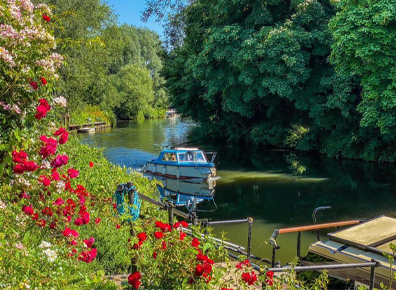 Maidstone Self-Drive Hire boats are the perfect social distancing day out. In your own private boat (groups no more than six), cruise down the river at a leisurely pace, admiring the abundance of nature on the River Medway. Pack a picnic and enjoy strawberries and cream from the river or stop off for takeaway refreshments from the Little Old Toll House in Alllington.
Some changes include new timings to allow for increased cleaning in-between groups as well as reduced travel distance from Allington and East Farleigh locks.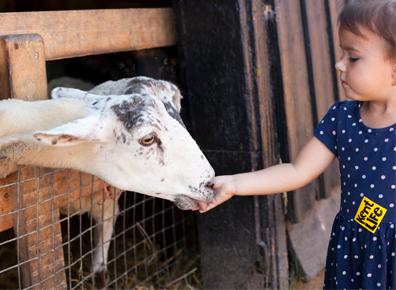 Kent Life Heritage Farm Park will be opening back up to families from the 4th July. The staff and animals have missed you all greatly and can't wait to see you back! Visit all your favourite farmyard animals, including some new arrivals who were born during lockdown. Attractions are likely to include Tractor Rides, Outdoor Play, Cuddle-Corner and Farmyard Walk Through, Animal Talks, Animal Encounters and Paint-a-Pot Studio. Please check the blackboard at the entrance to find out what's open at Kent Life on the day of your visit.
Refreshments will be available from Dotty's Tea Room for takeaway and the ice cream hut will be serving ice-cream, snacks and drinks daily. At the weekends, The Pizza Garden will be serving fresh pizza and jacket potatoes too.
Tickets to Kent Life are currently reduced, pre-booking is essential due to operating at a reduced capacity.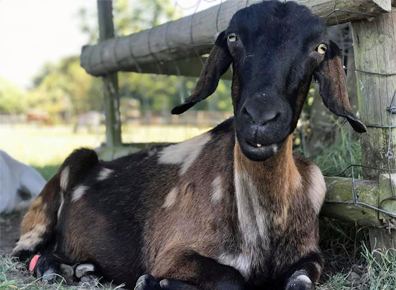 The ever popular Buttercups Goat Sanctuary has finally been able to open its doors to the public again after many weeks of turmoil and uncertainty surrounding their future. Thankfully these gorgeous furry creatures remain safe in the care of the staff at the sanctuary and have missed all their human friends.
Now you can safely experience the goats wandering the park and take the opportunity to reconnect with nature. New opening times include Thursdays, Fridays, Saturdays and Sundays from 11am-3pm.
Some additional measures will be in place including closure of the tea room, however refreshments and goat food will still be available to take away, the yard and stable areas as well as the toilets will all be closed until further notice.
Related
0 Comments